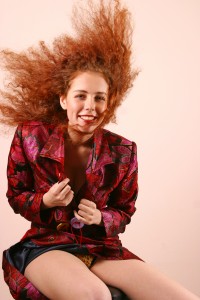 External factors affect hair, whether we like it or not. It's been unusually humid where I live and my hair has some major poofing issues right now. I avoid fighting my natural hair texture at times like this. Frizz will always be a factor when it comes to humidity, but frizz becomes less intimidating when you let your hair do what it does naturally. Excessive heat styling leads to dryness and damage, the very things you want to avoid when fighting frizz.
Moisturized hair fares better in humdity. When hair is dry, hair cuticles swell a bit so they can allow more moisture to penetrate the hair. When the weather is humid the hair becomes filled with water from the air, causing the cuticles to swell even more. Properly moisturized hair will not absorb as much water from the air since the cuticles aren't swelling as much. Since the hair already has the moisture it needs, the cuticles won't swell as much, leading to less frizz.
If you find that the air is especially humid and your hair is still prone to frizz, help your cutilces out with and anti-frizz serum. A serum is usually composed of a silicone that thinly coats your hair and acts as a barrier to moisture in the air. If silicones don't agree with your hair you could try to use an oil or hair butter instead. Put a small amount on the ends of your hair and other dry areas. In both instances the hair serum or the oil should block out moisture from the air as well as seal in moisture in your hair.
Alcohol free gels could be used for additional control in humid weather. (Be sure to avoid gels with drying ingredients like SD alcohol 40, or isopropyl alcohol. These can be very drying for our hair types.) Alcohol  free gels I recommend are IC Fantasia Styling gel and Eco Styler. The Kinky Kurly gel is also popular as of late. Whatever gels you choose, use them sparingly to avoid build up or stickiness. Focus on problem areas and use a lighter hand for others.
In conclusion, to keep your hair humidity proof, you could
Keep your hair moisturized.
Avoid hairstyles that stray to far from your natural texture.
Use some form of anti-frizz serum.
Consider alcohol free gels for extra control.
Hair pins, clips, and bands always help.
I'm hoping this weather doesn't hold up for much longer. In the meantime, I guess I'll be deep conditioning more often.